Features
The ideal toolbox for materials R&D
Open source system & OEM agnostic interfaces
Embrace the freedom to choose and integrate. eMELT is an open-source system that seamlessly interfaces with OEMs, providing you with unmatched flexibility in your production processes. This compatibility empowers you to adapt and evolve your manufacturing setup as your needs change.
Fleet management
Realize the full potential of digital manufacturing with our fleet management capabilities. Streamline your production lines, monitor processes in real time, and gain valuable insights into your operations. eMELT helps you optimize efficiency and minimize downtime for maximum productivity.
Modular & independent build units
Experience faster, more ergonomic, and highly efficient build turnaround with eMELT's modular and independent build units. Tailor your setup to suit your specific requirements, allowing you to focus on what matters most—achieving exceptional results.
Outstanding heat management
eMELT's advanced heat management system delivers precision-controlled heating, Pixelmelt rapid melting, and efficient build tank cooling. These features work together to significantly enhance productivity, enabling you to meet demanding production schedules with ease.
Sequential micro casting
Reliability meets efficiency with eMELT's sequential micro casting process. This optimized manufacturing technique ensures consistent, high-quality results, reducing material waste and increasing overall productivity.
Superior electron gun design
eMELT boasts a state-of-the-art electron gun design that combines higher power with maintained beam quality. This translates to higher productivity in mass production scenarios, allowing you to accelerate your projects without compromising on quality. eMELT
…isn't just a 3D metal printing system; it's a game-changer in the world of advanced manufacturing. Join the future of metal additive manufacturing with Freemelt eMELT. Unlock limitless possibilities, redefine productivity, and experience excellence in every print. Embrace the power of eMELT and realise the full potential of digital manufacturing.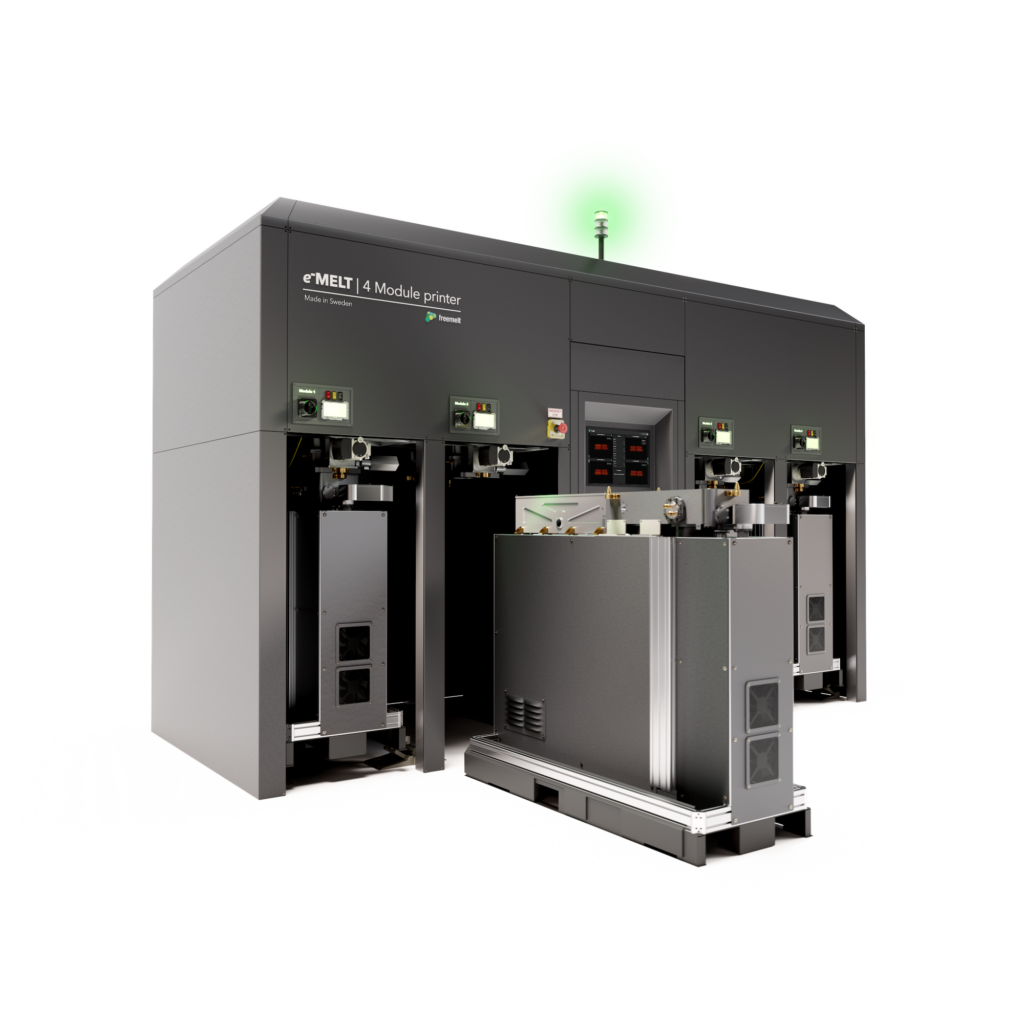 Hardware
An in-depth look at eMELT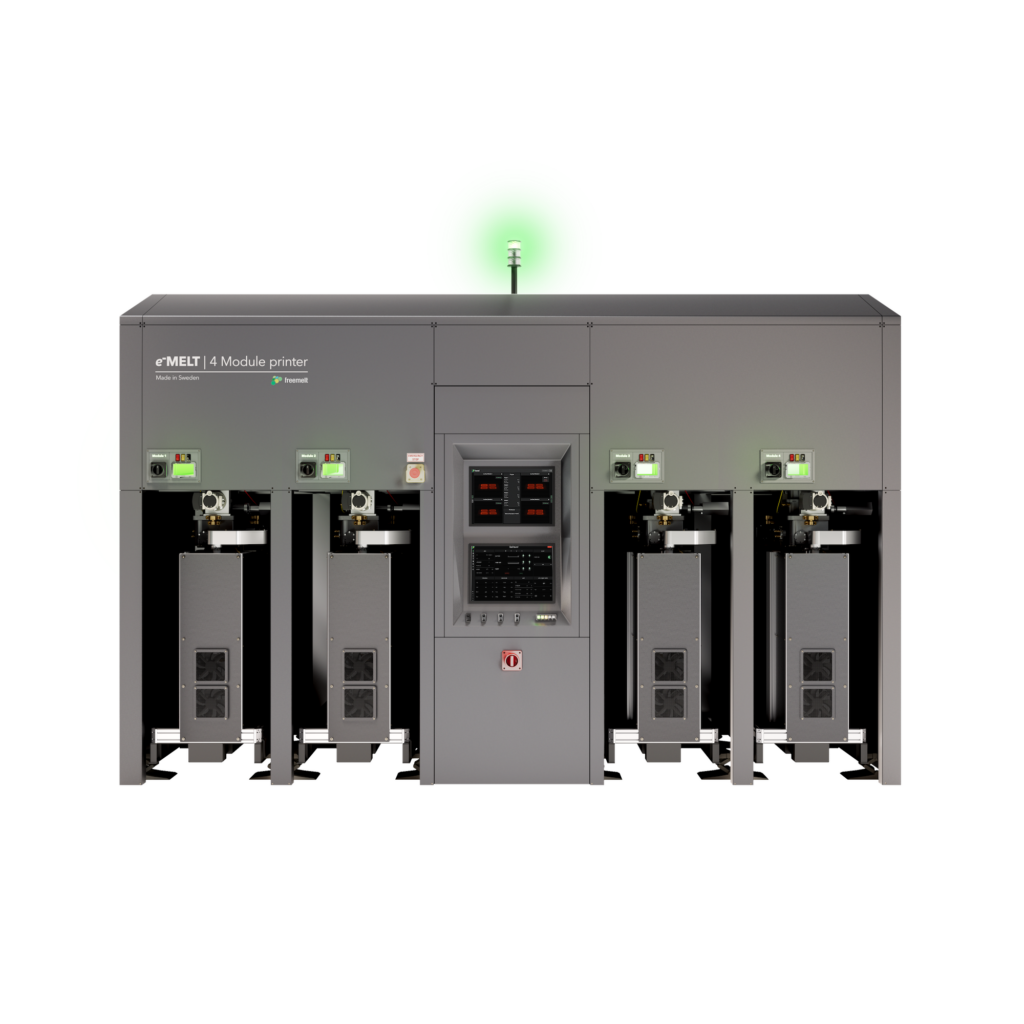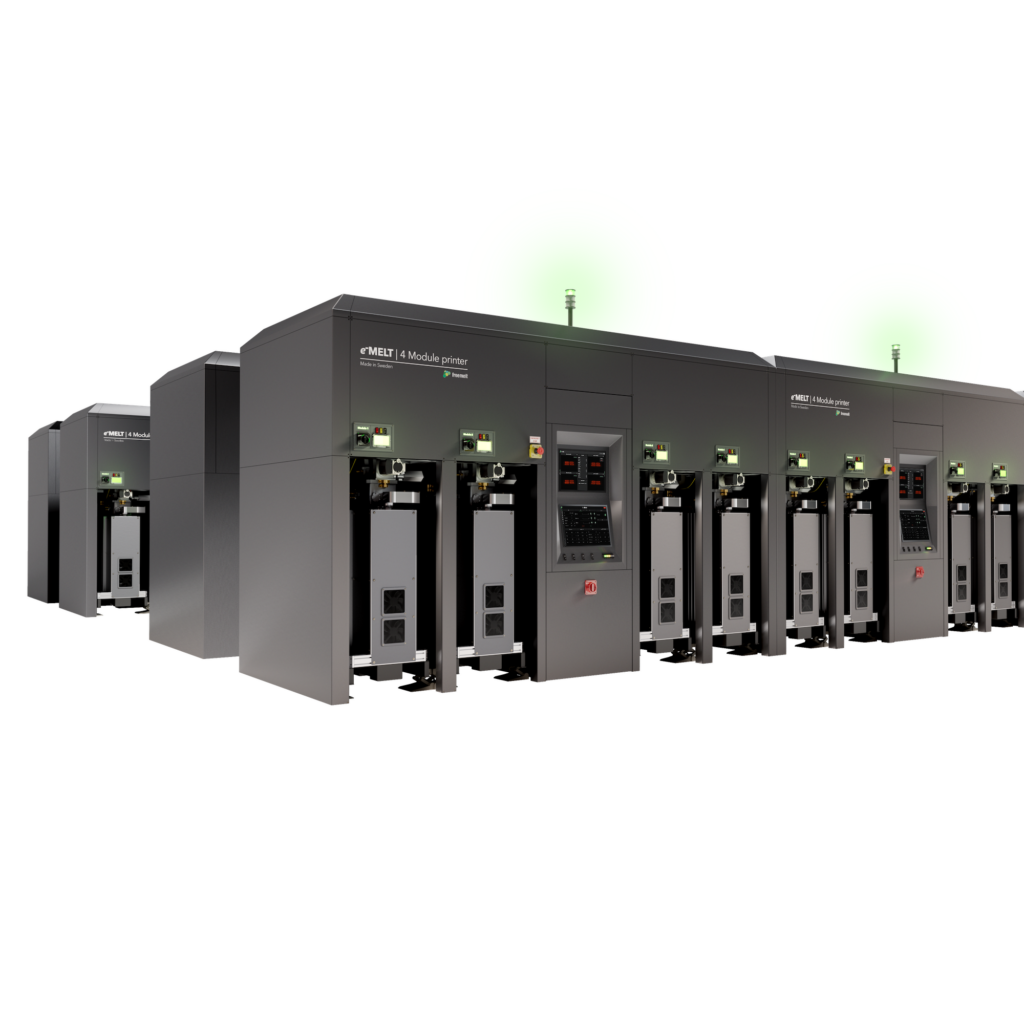 Diode electron gun for small electron beam spot size all the way up to the maximum beam power output
The diode electron gun in eMELT is a central technology enabling faster processing compared to traditional solutions.
Laser heating of cathodes for simple design and stable operation of the crucial electron beam generation unit in Fremeelts systems
By using a backside lazer heating of the cathode eMELT enables a very high electron beam power with optimized spot size for 3D printing in powder in a stable, robust design for high-volume manufacturing.
Spot melting for control of material quality in built parts of complex shape and for development and implementation of new materials.
Electron beam technology can reposition the electron beam extremely fast compared to laser beam technology.
Build tank cooling in a chamber-less system design for fast processing in small build volumes.
By using build tank cooling eMELT allows a high build temperature of 1000C and higher.
Powder bed heating in a secondary way by using a heat plate when easily chargeable powder is used as raw material in the manufacturing process.
Freemelt implements a retractable plate above the powder bed that is heated to high temperature by the electron beam. The plate temperature is so high that it radiates heat onto the powder bed for powder sintering. In this way it is not necessary with direct electron beam heating for powder sintering thereby avoiding the powder lifting effect which is a big concern in an industrial manufacturing situation. Freemelt has developed this technology into a product called ProHeat.
Manufacturing surveillance for quality assurance using secondary electron detection. 
Electron backscatter detection inside the processing space is a methode to create electron generated images of the powder bed and the built parts, layer by layer during the processing. The images have high resolution and good contrast which makes them very useful for process surveillance in a production process.
Build tank removal and replacement for fast manufacturing batch turnaround in eMELT
eMELT is designed so that the build tank and some adjacent sub-systems in the system can be detached from the system and moved to another area within the factory for build part removal, depowering, and refill of powder. This enables an improved versatility in the use and placement of the eMELT system in the factory compared with competing systems.
Electron beam control by multiple coil technology for fast and accurate build accuracy
eMELT is designed with several individual and simple coil windings on the same frame. These coil windings are controlled individually to form a complex super positioned magnetic field that is derived using mathematical algorithms for the control of the magnetic field influencing the electron beam. This has several advantages:
The individual coil windings do not need to be very precise since the resulting field can be readily calibrated by tuning offsets to the algorithm values for the individual coil windings.
 More advanced correction fields can be employed to correct beam shape with better results.
Improved functionality can be implemented at customer systems with software updates instead of hardware updates.
Demo
Speak with one of our experts